LACEY
This option is currently sold out.
Details
The lacey suit has unparalleled sculpting abilities. Game changing fabric & construction dramatically yet comfortably smooths & supports. 
Fabric is ultra matte so it works as a swimsuit or bodysuit. 
Medium cut leg with cheeky back coverage
Outer fabric is a light weight activewear compression fabric, similar to a high end sports bra
Front & back waist is lined in power mesh
Adjustable straps can be crossed or worn straight
Removable bust pads
Ultra supportive shelf bra 
Size Guide
Model is 5'7" and is wearing an S SHORT. SHORT options work best for shorter women or medium height women with a C cup or smaller. REGULAR / LONG works best for taller women, women with long torsos and/or women with large chests. If you have questions about fit please click on the chat option.
| Size | # | Bust | Waist | Hip |
| --- | --- | --- | --- | --- |
| XS | 0/2 | 31-33 | 24.5-26.5 | 32-34.5 |
| S | 4/6 | 33.5-35.5 | 27-30.5 | 35-37.5 |
| M | 8/10 | 36-38 | 31-33 | 38-40.5 |
| L | 12/14 | 38.5-40.5 | 33.5-35.5 | 41-43 |
| XL | 16/18 | 41-43.5 | 36-39 | 43.5-45.5 |
| 2X | 20/24 | 44-47.5 | 39.5-42 | 46-49.5 |
Shipping & Returns
Free shipping via USPS which takes 1 or 2 days on the West Coast and up to 4 days on the East Coast. Faster options available at checkout. Orders go out the next business day. Free returns & exchanges. Process your return using ta3swim.returnly.com within 20 days of product ship date. No international orders at this time.
Featured In
Customer Reviews
01/20/2021
Christine B.

United States
Getting My Sexy Back!
This is seriously the best thing I have ever put on my body!!!! I've always been around 120lbs and over the past few years ended up 160lbs. My itty, bitty bikinis were not fitting on my new body and the one pieces I would wear were so unflattering! I tried other shape wear bathing suits and felt like a Vienna sausage stuffed in it. With a Florida and Mexico vaca coming up, I was on a search to find a suit to feel confident in. And giiiirlll, with this suit I may be dancing on the swim up bar!!! Amazing quality and fit!! My tummy looks so tiny with the hourglass figure it creates! Also Leila is seriously the best and made sure I got the right fit! Best customer service! Thank the heavens God made her to create this swimsuit! I will post a pic soon!
01/16/2021
GEB

United States
Wow.
Y'all this suit is life changing. Thanks to COVID I'm at my heaviest and was dreading getting into a swim suit again, but the Lacey is perfect. It pulls everything in without making anything stick out, no bulging period. I am so happy with my purchase!
12/30/2020
jasmien h.

United States
LOVE THIS SUIT!
The Lacey really does something amazing for your waist line, and is so cute on. And thank goddess that someone finally came up with shape-swimwear for all sizes, not just plus sizes. I mean…we all could use a little nip, tuck & lift - no matter what size you are. I also LOVE that they have a long option, for all us tall girls with long torso's (which makes it really hard to purchase swimsuits, but these gals NAILED it!).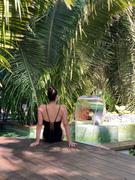 12/29/2020
Rachel S.

United States
slimming AND comfortable
What an amazing company and customer service was exceptional. Leila even sent me 2 sizes because I couldn't decide. I'm an apple shaped which means I have ZERO waist, but this suit changes everything. It's very flattering and totally worth it.
12/28/2020
Aurora

United States
love it
This suit is elegant and sexy, super happy I got it. The quality is thick and durable, can tell its very well made. I'm 27 in jeans, have a regular length torso, B cup, round booty, slim except for my stomach and I bloat easily due to a health condition. I fit the Medium Regular/Long, after trying the Small R/L which was too tight and uncomfortable on me. This tucks in my tummy so well and I look fab!!! Cant wait to wear it to the beach.