FREE USA SHIPPING & RETURNS! NOW SHIPPING TO CANADA & AUSTRALIA
PLUNGEY
Details
Brand new ultra glam plungey has the same mega sculpting abilities as the lacey but with more side & rear coverage and an ultra sexy deep V neckline. Pull the ties to sculpt that waist and shorten the straps to lift those girls. 
Fabric is ultra matte so it works as a swimsuit or bodysuit. 
Low cut leg with fuller back coverage
Outer fabric is a light weight activewear compression fabric, similar to a high end sports bra
Front & back waist is lined in power mesh
Adjustable straps 
Removable bust pads
Ultra supportive shelf bra 
Fit Info
Take the fit quiz
Model is 5'7" and is wearing an S SHORT. SHORT torso options work best for shorter women, women with short torsos or medium height women with a C cup or smaller. REGULAR / LONG torso works best for taller women, women with long torsos and/or women over 5'3" with large chests.
| XS | S | M | L | XL | 2X | 3X |
| --- | --- | --- | --- | --- | --- | --- |
| 0-2 | 4-6 | 8-10 | 12-14 | 16-18 | 20-22 | 24-26 |
Shipping
Orders go out next business day unless you choose faster shipping before 12PM pst. Then it goes out same business day (not on the weekend). 2 day and next day air available for fee. No international orders yet.
Returns / Exchanges
COMPARE STYLES
Talea, Size M / RL
Bra 34F, Waist 31, Hips 43
Height 5'11, Weight 180lbs
Talea, Size M / RL
Bra 34F, Waist 31, Hips 43
Height 5'11, Weight 180lbs
Abia, Size L / RL
Bra 38D, Waist 36.5, Hip 48
Height 5'8
Abia, Size L / RL
Bra 38D, Waist 36.5, Hip 48
Height 5'8
Sedona(left), Size XS / RL
Bra 34C
Height 5'7", Weight 127lbs
Alyssa, Size L / S
Bra 42C, Waist 34, Hip 46
Height 5'6", Weight 175lbs
Eve, Size M / RL
Bra 36C, Waist 30, Hips 43
Height 5'8.5"
Marissa, Size 3X / RL
Bra 44DD, Waist 46, Hips 55
Height 5'9, Weight 250lbs
Marissa, Size 3X / RL
Bra 44DD, Waist 46, Hips 55
Height 5'9, Weight 250lbs
REVIEWS
Customer Reviews
09/15/2021
Nicole

United States
Unbelievable results
How is a swimsuit the best shape wear I've ever owned in my life? It sucks me in without feeling like I can't move or bend or breathe. The lace up back makes it so easy to tighten where I need to and loosen up where I want to. I also have a long torso, and it always makes one pieces incredibly uncomfortable. This swimsuit is worth EVERY PENNY.
09/14/2021
T. Cooper

United States
Exceeded My Expectations
I was hopeful that the swimsuit would look good, but I didn't expect for it to be just like the photos and videos online. It's even better than I ever imagined it would be! I love it, and I'm probably going to get another style, I haven't felt this confident in a swimsuit in a long time!
09/05/2021
Isabelle

United States
Best one piece ever
I really really like it! Based on reviews I chose the shorter one in medium and I was worried I would be too big for it but it fits like a dream. My chest is a bit bustier and they pop out a bit, but they are still held in the suit really well. I'm impressed and really happy with it.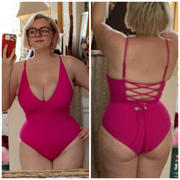 Game changer
Honestly, I was extremely skeptical. And the price point wasn't making it any better. I decided to invest because I've spent more money on worse things. When it arrived it did not disappoint. The material is excellent. And the fit, ABSOLUTELY FANTASTIC! I'm a large girl. Usually wear size 14-18. I got an XL. And the way it cinches in your waist, ABSOLUTE GAME CHANGER. I'm buying another one. I've never looked flattering in a bathing suit.. UNTIL NOW! Take my word coming from a cheapskate… GET THIS SUIT!
08/19/2021
Autumn

United States
HI HEY HELLO STOP READING THIS REVIEW AND GO BUY THE D*AMN SUIT BABE
Here's the boring stuff: Hourglass figure with thicc thighs, 155lbs, big boobs, big butt, small waist, 5'8". Fits like a glove. All the good cleavage, none of the spillage. I bet I could've gotten a large and still felt good in it. Definitely wouldn't recommend a small if you have similar proportions. Ok, now let's talk: I received this bathing suit approximately 15 minutes ago, tried it on and then sprinted to the computer to write this review--and this review is perhaps my first ever in a long, sometimes (read: often) sad history of online shopping. Babe, look me in my metaphorical eyes: YOU WILL LOVE THIS BATHING SUIT. YOU WILL LOOK HOT IN THIS BATHING SUIT. Will it make your ex apologize for being a Grade A DBag? No...BUT if they see you in this suit they'll AT LEAST consider it. Will it make your mom pay for the therapy she caused you to need? No again, but it will certainly offer a temporary serotonin boost. The price? Nope, don't let that deter you if you have the coin and you're on the fence...I KNOW it's spendy. And I KNOW it might seem like this suit is too good be true. It's just that it's not. And I want this for you. Ok, now stop looking at me and go buy the suit.
Featured In